Harakeke Rōpū
Harakeke has many benefits. Your child has the opportunity to strengthen their understanding of current learning and gets time to practise these new skills in a safe, fun environment. Your child could be working with students from other classes which changes the dynamics of their learning while building new friendships. Often there is a tuakana-teina relationship amongst the students which benefits all ākonga. During these times, they can observe new strategies used by their peers. A kaiako, which is not their current teacher, may be overseeing the session which gives your child the chance to work with another teacher from within the school. This can also change the learning dynamics and gives your tamariki the chance to develop a relationship with a kaiako that your child may not have while strengthening relationships with kaiako they know well. And then there is the opportunity for your child to work with the ANZ volunteers. Our students enjoy these sessions and the chance to work with another adult. The ANZ staff are passionate about helping our students while our students are keen to work with the volunteers and are settled and engaged throughout. Special relationships are formed during these sessions.
Whānau can support Harakeke by encouraging their child to attend and signing the permission slip. Please also ensure that there is an adult waiting at school to collect your child after the session. You can talk to your tamariki about what learning was covered. Feedback about what your child enjoys about Harakeke and what we could do to improve this important learning time would be greatly appreciated.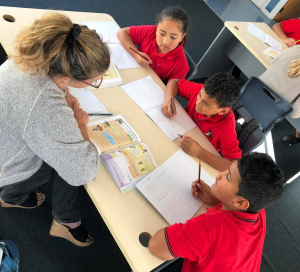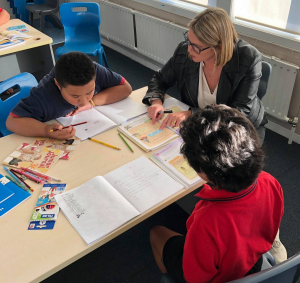 Harakeke is a very valuable part of East Tāmaki School which enhances the learning of our tamariki. We are grateful to the ANZ volunteers for investing their time and passion into our students' education.